Eat less meat! Eat better beef!
Our butchers source ex dairy from all over the world, be it England, where they have access to one of the countries largest ex-dairy herds, Finland with the 'best steak in the world' Sashi beef, or Spain with the Galician blonde cattle that have been served in the countries cider houses for decades.
Being raised on pasture and grass fed it's whole life means two things. Firstly, the flavour is another level. Proper beef flavour, incomparable with anything else. Secondly, its ethically sound. The cattle and farms are regenerative in nature, meaning that the farming provides for better grass and surrounding ecosystem and a better future for us all
After a dairy 'career' the cows are put out to pasture for years where they develop the fat and flavour that we love so much. That extra time living, eating, moving really makes a huge difference to the beef.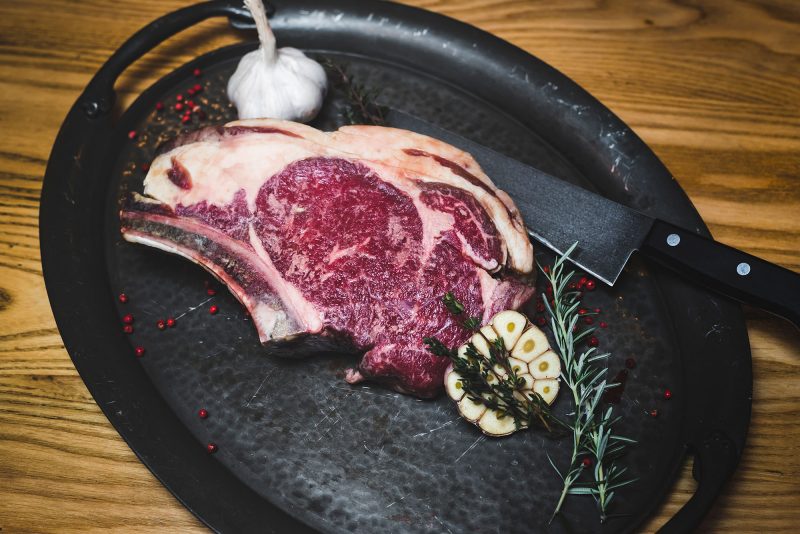 Coming Out Next from The Whippet Inn's Dry Aging Cabinet
CUT: Prime Rib
Aged for 70 days in, encased in aged beef fat.
Its got seriously big beefy flavours and a delicious richness that is incredibly moreish. We've taken one of our 5 bone beef ribs and trimmed up to a beautiful standing prime rib roast. To make the encasing , we rendered a tonne of of aged beef fat with garlic and thyme. Once cooled the meat is fully wrapped in it and allowed to age whilst absorbing every drop of flavour.
Ready to book?
Book your table in advance with our online booking system, or for groups larger than 10 people please call us on
+44 (0) 1904 500 660